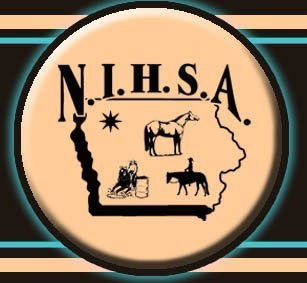 Contestant's age is as of January 1. This is the age used for the entire year.
A stallion with an age of yearling or older must be shows by an exhibitor that is 18 years of age or older.
No ponying of horses will be allowed during scheduled breaks at NIHSA shows in the arena.
Approved shows must have 5 point placings.
Exhibitor numbers available at every show but laminated permanent exhibitor numbers for the show season are available to be purchased at a cost of $5 per number. Each exhibitor is required to have their own number, which must be fastened to the exhibitor or saddle pad while showing.
No member of NIHSA may judge an NIHSA approved show.
All ponies under 14.1 hands MUST be measured at least two classes before their class or at least one-half hour before they enter the arena, or they will be disqualified for the show. The NIHSA Measuring Committee must do the measuring.
HALTER



No more than one exhibitor will be allowed to show any horse/pony in the arena.

RANCH HORSE CONFORMATION



A horse that competes in Ranch Horse Conformation class can not compete in any other conformation halter class.

SHOWMANSHIP AT HALTER



The same horse may be used in all three showmanship at halter classes if shown by different exhibitors.

BIT RULES



Any horse that is 5-years-old and under may be ridden with a shank bit, snaffle bit or bosal, and has the option to be ridden two-handed. At 6-years-old or older horse must be ridden with a shank bit and one-handed.
NIHSA will use the same rules for bits as AQHA.

NOVICE WALK TROT\WESTERN PLEASURE



A person that rides Novice Walk Trot (youth or adult), Novice Youth Western Pleasure or Adult Novice Western Pleasure is NOT eligible to ride in any other western pleasure classes, with the exception of youth pony pleasure.

RANCH HORSE PLEASURE



A horse that competes in Ranch Horse Pleasure class not compete in any other western pleasure class.

GREEN REIGNING CLASS



Must use any AQHA approved bit, may ride one or two handed as your confidence allows, but must keep with what you start with. The judge has the right to disqualify if you switch from one handed to two handed or vice versa. NIHSA will use pattern #6.

GAMES



Any horse can not compete more than once in classes
If any contestant rides more than one horse in a game class, he/she must designate the point horse and non point horse on entry cards.
No slip-on spurs allowed to be worn in the arena during game classes.
All game horse participants must follow the dress code policy: Boots, jeans, sleeved shirts unaltered and the shirt must be tucked in when entering the arena. If the show committee deems the apparel inappropriate the committee has the right to make the final decision.